John Mort Collection Donated to MSU Libraries
John Mort Collection Donated to MSU Libraries
Recently author John Mort donated materials documenting his career to the Missouri State University Libraries. Mr. Mort is known for his writings on the Ozarks, including Down Along the Piney: Ozarks Stories and Goat Boy of the Ozarks.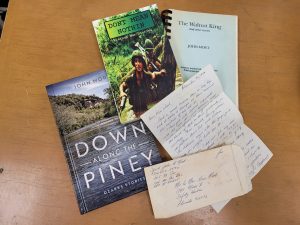 He has also published fiction on Vietnam, including Soldier in Paradise, which won the W.Y. Boyd Award for best military fiction. In western fiction, he most recently published Oklahoma Odyssey.
The John Mort collection consists of drafts of works and fragments that never made it to press. These materials, as well as correspondence, reviews, awards, and notes, help us understand the work of an author. A native of Missouri, Mr. Mort has been described as "one of the more authentic voices of any writer in the Ozarks" by Lynn Cline, faculty emeritus, Missouri State University.
Mr. Mort included the letters he wrote to his mother in the late sixties when he was in Vietnam. This part of the Mort collection dovetails with other military collections in Special Collections, including family correspondence from WWII and Korea.
The collection is housed in Special Collections and Archives, a unit of the MSU Libraries, located on the Third Level of Duane G. Meyer Library on the main Springfield campus. For more information, contact Anne M. Baker, head of special collections, at 417.836.4299 or AnneBaker@missouristate.edu.