Furnishings for the New Duane G. Meyer Library "Den" on Order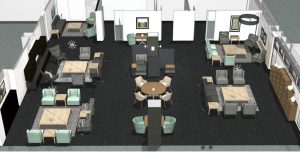 Members of the Space Committee of the MSU Libraries have been working long and hard with representatives from MSU's Office of Planning, Design & Construction, Scott Rice Office Works, and Steelcase to select furnishings for the new "den" being established at the top of the main interior ramp into the First Level of MSU's Duane G. Meyer Library. The furnishings now are on order. Funding for this particular phase of the multi-year library renovation project has been made possible in part through a generous commitment for major financial support from the Martin Family Foundation.
The image at right is a bird's eye rendering of the new space, looking south toward the fountain. The newly renovated space will feature new carpeting, lots of soft furniture, a new area to display new books, and even a faux fireplace. Renovation work already is underway and should be completed in early August at the latest, before the start of the fall semester.