Author Alex Primm Speaks Today at 4:00
Author Alex Primm Speaks Today at 4:00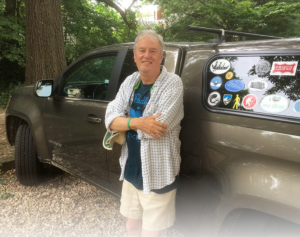 Alex Primm, author of the recently published book, Ozark Voices: Oral Histories from the Heartland, will give an author talk this afternoon, Thursday, April 7, 2022 beginning at 4:00 p.m. CDT in the Ozarks Room on the Third Level of Duane G. Meyer Library on the main Springfield campus of Missouri State University. This event is free and open to the general public. 
The promotional paragraph for the book reads: "Discover the stories passed down over time from the people of the Ozark region. Oral history is shared through the years to provide a perspective on the landscape and people who inhabit the beautiful, culturally rich area. These oral histories show essential connections among settlers in a challenging landscape. Written to inspire history buffs, outdoor enthusiasts, travelers, tycoons in training and students of all ages, this path-breaking collection will take readers deep into a region averse to change, tricky to know, yet brimming with American culture."
Alex Sandy Primm has worked for 40 years interviewing people throughout the Ozark region. He has also served as a correspondent in Vietnam. He ran the Ozark Agriculture Museum at Maramec Spring Park, produced award-winning regional videos, and taught oral history in mainland China.