MSU Libraries Co-Sponsor Talk About Schoolcraft in the Old Ozarks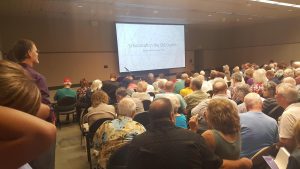 On Tuesday evening, September 18, 2018, Brooks Blevins, Noel Boyd Professor of History at MSU, spoke to a packed house of over 150 about the explorations and impact of Henry Rowe Schoolcraft 200 years ago. Dr. Blevins' talk was based on his recently published book, A History of the Ozarks, Vol. 1: The Old Ozarks (Urbana: University of Illinois Press, 2018).
The event, held in the auditorium of the Library Center on S. Campbell Avenue, was co-sponsored by the Springfield-Greene County Library District and the Ozarks Studies Institute, an initiative of the MSU Libraries.