SFF23OZ Updates
SFF23OZ Updates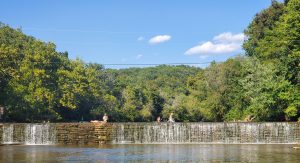 A team of program planners from the Missouri State University Libraries continues to work with representatives from the Smithsonian Center for Folklife & Cultural Heritage, as well as with many people from various stakeholder groups throughout the five-state Ozarks Region, to prepare for the Ozarks program at the summer 2023 Smithsonian Folklife Festival (SFF23OZ) to be held on the National Mall in DC.
Here are some recent updates:
A special preview event will be held THIS summer, on Sunday afternoon, June 26th from 4:00 to 6:00 p.m. EDT in conjunction with the 2022 Smithsonian Folklife Festival on the National Mall in DC. The event will feature Ozarks music and dance. Stay tuned for additional details as they become available. We plan to livestream, record, and archive the event, too, so that folks back in the Ozarks can enjoy it in real time and well into the future. 


Many individuals and groups have been contacting the core program planning team to offer their time, talent, and expertise with the planning and execution of this massive event, which will be spread over ten days and may attract as many a one million people. To help streamline this groundswell of great Ozarks volunteerism, a simple online interest form has been developed. We encourage everyone who wants to help in some way to complete this form. 


Meetings continue to be held every week. For example, yesterday Craig Amason was down in Pocahontas, Arkansas, to meet with representatives from several groups. Last Saturday Tom Peters was doing field work at the annual Arkansas Pie Festival in Cherokee Village. (It was a difficult assignment, but someone had to do it.) On Monday Dean Peters traveled to northwest Arkansas for a series of meetings with representatives from the U. of Arkansas Libraries.