Summer Read of the MarooNation Book Club Announced
Summer Read of the MarooNation Book Club Announced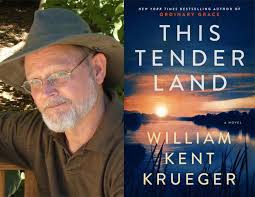 This Tender Land, by William Kent Krueger, has been selected as the summer reading selection for the popular MarooNation Book Club. The online book discussion group is a collaborative effort between the MSU Alumni Association and the MSU Libraries.  
In the summer of 1932, on the banks of Minnesota's Gilead River, the Lincoln Indian Training School is a pitiless place where Native American children, forcibly separated from their parents, are sent to be educated. It is also home to Odie O'Banion, a lively orphan boy whose exploits constantly earn him the superintendent's wrath. "Everything that's been done to us we carry forever. Most of us do our damnedest to hold on to the good and forget the rest. But somewhere in the vault of our hearts, in a place our brains can't or won't touch, the worst is stored, and the only sure key to it is in our dreams." –William Kent Krueger
Timeline
July 1-August 1: Acquire book on your own and begin reading
August 2-September 17: Online discussions for This Tender Land
September 20-27: Online Poll to determine the Fall 2021 book
October 1: Fall 2021 book announced
Acquire the book
Each member is responsible for acquiring their own reading materials. Goodreads offers several purchasing options or you may borrow from your local library.
Already a MarooNation Book Club member?
Watch for the Goodreads online discussion thread starting on August 2 and be ready to share your thoughts.
Contact
417-836-5654
Date & Location
Date: 7/1/2021 to 9/27/2021
Location: Virtual Event