Spring/Summer 2021 Issue of OzarksWatch is Published
Spring/Summer 2021 Issue of OzarksWatch is Published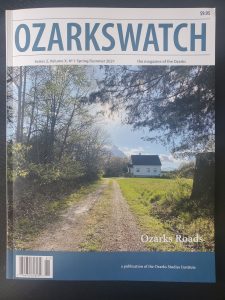 On July 1, 2021 the Spring/Summer issue of OzarksWatch Magazine, published by the Ozarks Studies Institute, an ongoing initiative of the Missouri State University Libraries, arrived back from the printer.
The theme of this issue is Ozarks Roads. Kaitlyn McConnell contributed the cover image and a photo essay. Robert Edwards writes about how good road transformed the nation — and the Ozarks. Allyn Lord traces the Ozark Trails Association. Gary Sosniecki describes how Lebanon won the battle to have Route 66 pass through their town. Lynn Morrow describes how in the early Thirties a dam, rising waters, and intersecting highways helped create the model city of Camdenton. Robert Edwards navigates the twists and turns in developing a good road between Mansfield and Ava. 
This issue also contains six lengthy book reviews.