More Computers Available to Check Out
More Computers Available to Check Out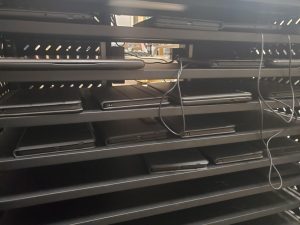 In an effort to increase access to computing devices for our students, the Missouri State University Libraries has recently made the following additional resources available for checkout from the main service desk on the Main Level of Duane G. Meyer Library:
10 11in iPad Pro devices
10 12.9in iPad Pro devices
20 Bluetooth keyboards
10 2nd-generation Apple Pencils
9 9.7in 6th generation iPads
5 1st-generation Apple Pencils
10 Logitech Crayons (for use with 7th-generation iPads)
20 8th-generation iPads with keyboard cases (provided by MOCAN)
5 new 14in Windows laptops from Dell
5 new Apple Silicon MacBook Air laptops (coming soon!)
All devices come pre-installed with Microsoft Office software, and a selection of other commonly used software titles (varies by platform). Users will also be able to install software on the systems themselves. Devices are wiped of personal data upon return. If you have any questions about devices, availability or would like to inquire about additional software titles, please contact the Duane G. Meyer Library Information Desk at 417-836-4700.


We heartily thank all of the individuals and organizations who made these additional computing resources available for students and others.