Exhibit in the PSU About the Campus in the Seventies
Exhibit in the PSU About the Campus in the Seventies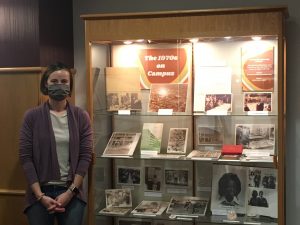 Special Collections and Archives, part of the Missouri State University Libraries, is excited to share a new exhibit on the third floor of Plaster Student Union! This exhibit was created and installed by Haley Frizzle-Green, a practicum student from the University of Missouri who will be graduating with a Master of Library and Information Science degree in May.
The exhibit focuses on campus in the 1970s and highlights the name change to Southwest Missouri State University in 1972. Other images include the class registration process, the new Hammons Student Center, the pool behind Freudenberger, Homecomings, and the Student Union.
As part of her practicum, Haley also organized and created a finding guide for the Bill A. Gates Collection. Gates was born in 1907 in Alley Spring, Missouri. He lived and worked in the surrounding communities of Shannon County, Missouri, and was known as a local historian. Users may contact Special Collections and Archives at Archives@missouristate.edu with questions about the exhibit or the collection.