Drury and MSU Have a Reciprocal Borrowing Agreement
Drury and MSU Have a Reciprocal Borrowing Agreement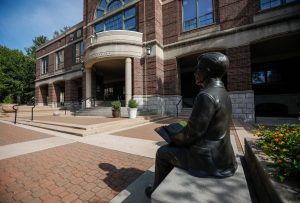 The main libraries on the Springfield campuses of Drury University and Missouri State University recently signed a document articulating a reciprocal borrowing agreement. Current students, faculty, and staff members in good standing at Drury and MSU now may check out books from Drury's F. W. Olin Library and MSU's Duane G. Meyer Library. 
Here are a few details of the agreement:
Valid identification information must be presented for the patron wishing to borrow materials or access services from the library of the other institution. 


Items circulate for four weeks, with one renewal possible.


No more than 10 (ten) books may be checked out to a reciprocal borrowing user's account at any given time. 


The individual borrower is expected to return items in good condition to the lending library. For example, if an MSU faculty checks out a book from Drury's Olin Library, they must return it to Olin Library. 
For more information, please contact the main circulation desks at the two libraries.