Diner Booths Grace 2nd Level West
Diner Booths Grace 2nd Level West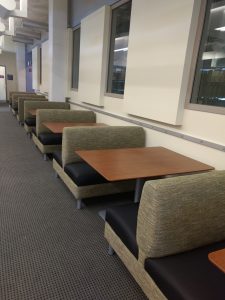 Diner-style booths in Duane G. Meyer Library have proven to be very popular with library users. This summer another set of booths were installed in the west end of the Second Level, near the current Music and Media area and the offices supporting the Public Affairs events of Missouri State University.
In preparing for the new booths, a strip of electrical outlets was added, so that users will be able to plug in and recharge their laptops, smartphones, and other devices. 
Other summer renovation projects in Duane G. Meyer Library, such as the renovation of Library 101, the large, tiered lecture hall and event space, as well as the conversion and renovation of Library 003 as a space where Augmented Reality, Virtual Reality, Robotics, 3D Printing, and other work can be done, are coming along nicely, too.