Faculty of the MSU Libraries Present at the MO Library Association Conference
Faculty of the MSU Libraries Present at the MO Library Association Conference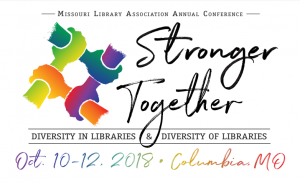 Two faculty members of the MSU Libraries are presenting at the 2018 Annual Conference of the Missouri Library Association, being held this week in Columbia:
BREAKOUT SESSION: Diversity in Libraries: Creating Interdisciplinary Space at Missouri State University—Duane G Meyer Library
PRESENTER: Jessica Bennett, Assistant Professor, Missouri State University
Machine learning, artificial intelligence, cyber-physical systems and robotics, human language technologies, human/AI collaboration, machine perception and sensing, augmented and virtual reality, autonomous vehicles, digital personal assistants, robotic/ AI librarians, IoT—what a diverse list, and that is only part of the changes that have developed and are expected to expand over the next 20 years. Many questions about the socioeconomic impact of these changes spring up. How do people stay informed about these developments? What is the path for access to new technologies? Who will benefit? What impact will there be on employment? How do communities come to agreements on the ethical and legal use of new technologies? Missouri State University–Duane G Meyer Library is developing an interdisciplinary space for student and faculty research that will include emerging technologies and data visualization— virtual reality, augmented reality, robotics, data visualization, 3D printing, and other technologies—in service of interdisciplinary research, active learning, workplace readiness, curricular enhancements, entrepreneurship, and regional economic innovation. This session will be an informal presentation on our initial idea, support from campus and community, challenges, and next steps.
POSTER SESSION: Become a Bias Detective
PRESENTER: Andrea Miller, Assistant Head, Content Management and Acquisitions, Missouri State University
Do you believe you are unbiased? Are you willing to put that belief to the test? What if you might not be as egalitarian as you desire to be? Unconscious biases can adversely shape people's actions despite their best intentions. Learn ways to become aware of hidden biases that may have an influence on your behavior and methods that may be used to work toward changing them.