New Exhibit: Exploring and Conserving the Past
New Exhibit: Exploring and Conserving the Past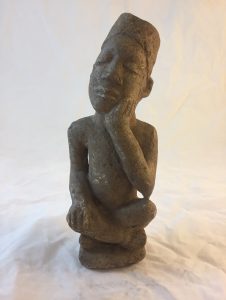 A new exhibit, Exploring and Conserving the Past, will open in Special Collections and Archives on Wednesday, October 17, 2018.  Please join us for an opening reception from 4:30 to 6:00 p.m. in Meyer Library Room 306.
This educational exhibit is the culmination of the best student research from the 2017-2018 Citizenship and Service-Learning (CASL) integrated courses ART/MST 488: Basic Conservation of Art and Artifacts and ART 386: Art of Africa, taught by Dr. Billie Follensbee. Objects studied are on loan from historical and educational institutions in the area and from private collectors.
The reception and exhibit are free and open to the public. Special Collections is pleased to support Dr. Follensbee and her students by providing study space and conservation facilities, as well as developing the current exhibit showcasing the students' work. For more information or exhibit hours, contact Special Collections at Archives@missouristate.edu or 417.836.5428.  The exhibit continues through December 14, 2018.