Panel Discussion About Ozarks Mules
Panel Discussion About Ozarks Mules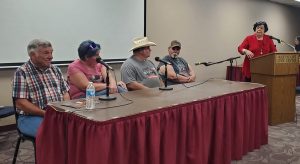 On Saturday, June 4, 2022, there was a panel discussion about Ozarks mules held at the Civic Center in West Plains, Missouri as part of the annual Old-Time Music, Ozark Heritage Festival. The Missouri State University Libraries organized this event as one lead-up to the big  ten-day Ozarks Program at the Smithsonian Folklife Festival in the Summer of 2023 on the National Mall in DC. 
Richie Dement of Centerville, Missouri, who coordinates the annual Hirsch Feed & Farm Supply Mule Jump during the Old-Time Music, Ozark Heritage Festival, shared some of his vast mule-related knowledge and experiences. He was joined by Jerry and Cynthia Nelson, a husband and wife team with thirteen mules, and R. A. Pendergrass from Bakersfield in Ozark County, Missouri. 
Carol Silvey from West Plains, current president of the MSU Board of Governors, moderated the panel discussion. She kept the panelists from bucking, kicking, and digging in their heels. 
Over twenty people attended in person, and Matt Meacham, a long-time organizer of the mule-jumping at the West Plains festival, who was unable to attend in person this year, joined via Zoom.