New Exhibit Highlights Local Military Service Members
New Exhibit Highlights Local Military Service Members
The exhibit "Those Who Served: A Look at Military Collections in Special Collections and Archives" is on display now through September 16 in Duane G. Meyer Library 306.  This exhibit includes materials from many archival collections in the MSU Libraries.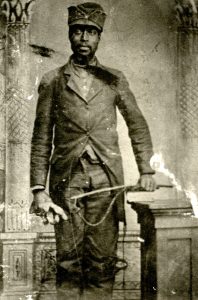 Learn about George Crittendon, a local African American who served in the Civil War; Dr. Jim Brown who was with the first MASH unit in Korea; and John Mort, author, whose letters to his parents served as background for his books and short stories on Viet Nam. Visitors can also look through the Memorial Album, a tribute to university alumni who died in service between WW I and the Korean Conflict.
Their stories are told through letters, photographs, oral histories, and artifacts.  "Those Who Served" can be viewed when Special Collections is open, generally 8 a.m. to 5 p.m. Monday through Friday.
To learn more, contact Special Collections at 417.836.5428 or AnneBaker@missouristate.edu.