Ode to the Ozarks This Sunday on the National Mall
Ode to the Ozarks This Sunday on the National Mall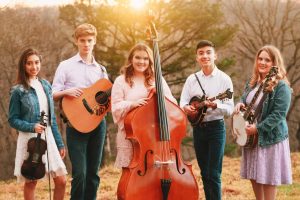 The National Mall in DC will resonate with sounds of the Ozarks this Sunday afternoon when we offer a preview performance of the 2023 Smithsonian Folklife Festival program, "The Ozarks: Faces and Facets of a Region."
This free and open-to-the-public preview event will be held from 4–6 p.m. (EDT) June 26 on the National Mall in Washington, D.C. The performance will also be
livestreamed via YouTube
.
Titled "Ode to the Ozarks," the event will feature old-time Ozarks music. To open the show, a trio of skilled musicians led by master fiddler David Scrivner will present an old-time Ozarks jam session.
Next, guests will enjoy a performance by Sylamore Special, a group of five teenagers based in Mountain View, Arkansas. The quintet, comprised of Mary Parker, Gordon Parker, LillyAnne McCool, Mercy Grace and Turner Atwell, will share their lively and spirited take on bluegrass music.
The MSU Libraries continues to work with the Smithsonian Center for Folklife and Cultural Heritage and other partners to plan the
Ozarks program
of the 2023 Smithsonian Folklife Festival.
The free, 10-day festival will be held in late June and early July of 2023 on the National Mall in Washington, D.C. At the event, participants will experience Ozarks music, food, crafts, and stories through daily demonstrations and nightly concerts. Other programming next year will focus on creativity and spirituality across the U.S.
ACCESSIBILITY: Live, real-time captioning and American Sign Language interpretation are provided for this program.