New Issue of OzarksWatch Magazine is Out
New Issue of OzarksWatch Magazine is Out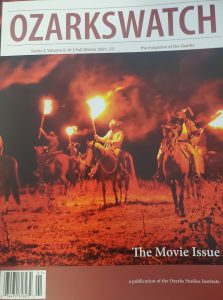 A new issue of the popular general periodical called OzarksWatch Magazine has been published. It explores the depiction of the Ozarks over the years in motion pictures. 
Articles in this issue focus on
Pearl White, an actress from the silent movie era best remembered for the Perils of Pauline series
The series of rube comedies (B-films) made by the Weaver Brothers & Elviry
Two articles about the life and legend of Jesse James
Ma Barker
Winter's Bone
The recent film, locally produced, about the Bald Knobbers
A documentary about highway robbers who terrified the citizens of Fair Grove, Missouri
This issue includes other articles, book reviews, and appreciation of Bob Flanders, who help found the magazine and recently passed. 
Two issues of OzarksWatch Magazine are published per year. An annual subscription costs $16, and single issues are $10 each. 
The next issue will explore the general theme of foraging in the Ozarks.