SFF23OZ Updates
SFF23OZ Updates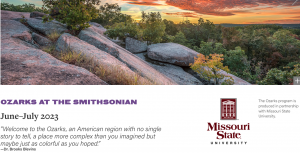 A team from the Missouri State University and Ozarks Voices continues working with a team from the Smithsonian Institution, as well as with organizations and individuals throughout the Ozarks, to plan for the Ozarks Program at the June/July 2023 Smithsonian Folklife Festival on the National Mall in DC. 
Here are a few progress reports:
Gifts from corporate entities and individuals have begun coming in to help fund the contingent of approximately 100 musicians, crafts people, chefs, and others who will travel from the Ozarks to the National Mall for the ten days of the festival. A special account has been set up with the MSU Foundation to receive these gifts. If you would like more information about support and sponsorship possibilities, please call Tom Peters at 309-660-3648. 
 
Outreach efforts continue: Meeting last Thursday with representatives from the Ozark Folk Life State Park in Mountain View, Arkansas; meeting with Rachel Reynolds this Sunday; Foodways meeting with representatives from Eating the Ozarks and Springfield Community Gardens on March 23rd; meeting in West Plains on March 24th with representatives from Ozark Vitality, followed by a meeting of the Highway 160 Group in Dora, Missouri; meeting on March 31st with representative from Hammons Walnuts in Stockton.


On Sunday, June 26, 2022 on the National Mall in DC there will be a special "sneak peak" event about the Ozarks, featuring a music jam session, a performance by a family band, and a workshop on one facet of the event, such as the Ozarks jig dance or song-writing. Stay tuned for details.