Tammy Stewart Interviewed By Her Husband
Tammy Stewart Interviewed By Her Husband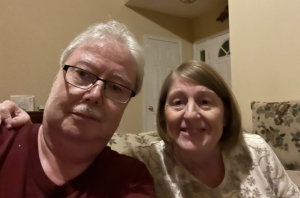 Retired MSU librarian Tammy Stewart was recently interviewed by her husband, Randy, as part of the KSMU "Sense of Community" series of interviews. Ahead of StoryCorps' National Day of Listening, KSMU arts producer Randy Stewart reminisces with Tammy about how they met. 
StoryCorps is a public radio program that gives people of all backgrounds the opportunity to record meaningful conversations and archive the recordings at the Library of Congress.
Randy Stewart joined the full-time KSMU staff in June 1978 after working part-time as a student announcer/producer for two years. His job has evolved from Music Director in the early days to encompassing production of a wide range of arts-related programming and features for KSMU, including the online and Friday morning "Arts News." Stewart assists volunteer producers John Darkhorse (Route 66 Blues Express), Lee Worman (The Gold Ring), and Emily Higgins (The Mulberry Tree) with the production of their programs. He's also become the de facto "Voice of KSMU" in recent years due to the many hours per day he's heard doing local station breaks. Stewart's record of service on behalf of the Springfield arts community earned him the Springfield Regional Arts Council's "Ozzie Award" in 2006.
After over 28 years of service to the Missouri State University Libraries and its many users, Tammy Stewart in early 2018 announced her plans to retire. On January 3, 1990 she began as a member of the library staff. On December 7, 1997 she became a tenure-track library faculty member, earning tenure in 2001. Most of her career was spent with government documents — state, federal, and, most recently, United Nations — and with the many users of documents.