Senator Roy Blunt Visits MSU Library
Senator Roy Blunt Visits MSU Library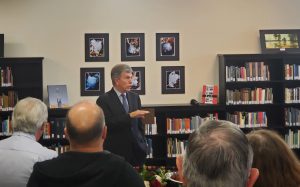 U.S. Senator Roy Blunt visited the main Springfield campus of Missouri State University on Wednesday, October 13, 2021 to visit with President Clif Smart and other university officials about healthcare and STEM research and programs at MSU.
In the late afternoon Senator Blunt, after meeting with local media representatives, was welcomed at a reception held in his honor in the new Ozarks Room on the Third Level of Duane G. Meyer Library. Approximately 50 university and Springfield dignitaries attended.
Senator Blunt commented on some of the fundamental research being done here and elsewhere that, among other things, helped the nation respond to the current pandemic. He also noted the need for upgraded and expanded teaching and research facilities, created in part by the growth of MSU in the past few decades. 
He also complimented MSU — both the Springfield and West Plains campuses — for our commitment to documenting and championing Ozarks history and life, as evidenced in part by the new Ozarks Room. Senator Blunt has an avid, sustained interest in Ozarks history and culture.