MSU Libraries to Host Grand Opening, Make Major Announcement
MSU Libraries to Host Grand Opening, Make Major Announcement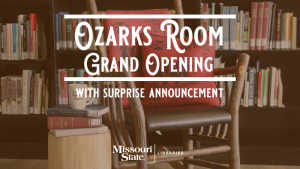 Join the Missouri State University Libraries on Wednesday, October 20th, beginning at 3:30 p.m. as we celebrate the grand opening of our Ozarks Room, located on the third floor of the Duane G. Meyer Library on the main Springfield campus of MSU.
This beautiful new space encapsulates the history and culture of the Ozarks through its diverse collection of books, photography and artifacts.
Our grand opening celebration will feature a surprise announcement by MSU officials, as well as performances by renowned local artists, Marideth Sisco and Emalee Flatness. Ozarks-inspired refreshments and hors d' oeuvres will be served.
Please RSVP by email to library@missouristate.edu. Guests may also attend the event virtually at msulib.me/ozarksroom.
ASL interpretation and real-time captioning will be available for this event.