Christian County Time Capsule Opened and Digitized
Christian County Time Capsule Opened and Digitized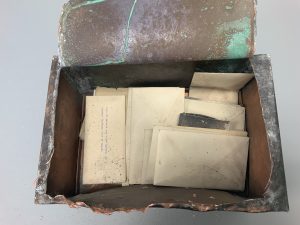 In 1920 what we call World War I was a recent memory, the Roaring Twenties was just limbering up, and the stock market crash, the Great Depression, and  the Dust Bowl was far in the future. The year 1920 left its mark. A 101-year-old time capsule from 1920 was recently opened at the Christian County Courthouse in Ozark, Missouri. 
Its existence was first discovered in a 1920 newspaper article by local historian Wayne Glenn, the Old Record Collector. From there a committee of experts began determining how best to track down the hidden box of items.  Initially it was not clear where the box was located, but with the help of engineers, architects, courthouse employees, and modern equipment, it was discovered inside the courthouse's cornerstone. 
After the box was extracted, the contents were cleaned and organized by conservators from the State Archives.  The items were then loaned to Missouri State University Libraries' Special Collections and Archives, where Archives Specialist Jeffrey Lawson digitized the items and created metadata for them for an online digital collection.
Examples of items in the collection include coins, newspapers, a King James Bible, Freemason documents and items, and information about the cornerstone as well as local businesses and organizations.
A new 2021 time capsule is also being placed in the courthouse, which will include donations from community members and winning children's essay submissions from a contest to describe "What It's Like to Be a Student in 2021."
Shannon Mawhiney, Digital Archivist for MSU Libraries' Special Collections and Archives and President of the Christian County Museum & Historical Society, was a member of the time capsule committee and was interviewed by KOLR10 at the unveiling ceremony on October 23:
https://www.ozarksfirst.com/local-news/local-news-local-news/century-old-time-capsule-items-revealed-at-the-christian-county-courthouse/