MSU Libraries Subscribes to AVON Streaming Videos
MSU Libraries Subscribes to AVON Streaming Videos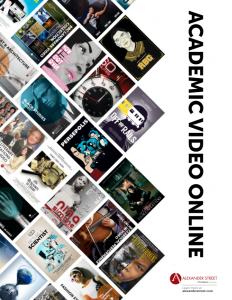 The uptake and use of streaming videos and other media in higher education has been quite pronounced. To help meet the growing demand for this type of content, the Missouri State University Libraries has become a subscriber to the AVON (Academic Video Online) streaming video database from ProQuest and its subsidiary, Alexander Street Press.  
AVON is a comprehensive video streaming collection of more than 70,000 films, including documentaries, interviews, feature films, performances, news programs and newsreels, and demonstrations. It covers a broadly multidisciplinary range of subject areas, such as anthropology, business, counseling, film, health, history, music, and more. The AVON LibGuides is a good place to learn more about this database. There is excellent coverage of many disciplines and how to filter by publishers.
AVON can be accessed on-campus and off-campus 24/7 via our library website, under the A-Z list of databases as "Academic Video Online". Also, all titles from AVON are indexed and discoverable in "Discover@MSU".