Meyer Library Gate Counts Begin to Rebound
Meyer Library Gate Counts Begin to Rebound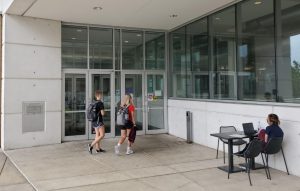 There are many important ways to measure the use of a library. One of the simplest is to count the number of people entering the building. Prior to the COVID-19 pandemic, it was not unusual to have thousands of people enter the Duane G. Meyer Library building on the main Springfield campus of Missouri State University every day. 
When the pandemic descended in March 2020, use of the physical library dropped to near zero for several months, and has been low overall since. However, with the return to near-normal operations of the university this summer, visits to Meyer Library have picked up.
For instance, in August 2019, well before the development of this pandemic, 30,860 people entered the building. So far in August 2021, through Tuesday, August 24, 14,086 people have entered the building. However, during the first two days of the fall semester, over 2700 and 2600 have entered the building. If we average 2600 people per day for the final five weekdays of the month, that will put the monthly total at 27,000, which is close to the pre-pandemic levels.