AlHamad Accepted Into MSU LEAD
AlHamad Accepted Into MSU LEAD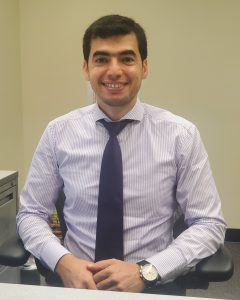 Mohammad AlHamad, the E-Resources Strategist for the Missouri State University Libraries, as been accepted into the MSU LEAD (Leadership, Education, and Development) program, beginning next month.
The LEAD program "prepares leaders and supports Missouri State University's vision to:
Be an employer of choice by providing supervisors opportunities to explore their leadership capabilities
Be responsible and transparent stewards of the University's resources
Work for continuous improvement in our programs, policies and procedures
Be collaborative, to promote meaningful partnerships that further the university's goals"
Mohammad noted, "As I'm always eager to develop new skills in my life both at my personal and professional level; MSU LEAD caught my attention the minute I read about in the Inside Missouri State newsletter. MSU LEAD will help me gain new leadership skills and cultivate some of my existing skills, such as, critical thinking & problem-solving. Not only that, but it's a great avenue to network with other MSU colleagues. Especially as a new employee, I need to grow my professional network on campus." 
Congratulations, Mohammad.