New Morgan Insignia Exhibit
New Morgan Insignia Exhibit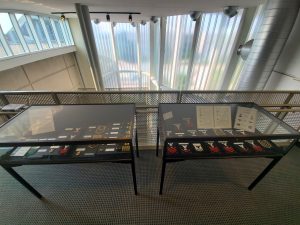 A new exhibit from the massive collection of military patches and insignia just went up on the Third Level of Duane G. Meyer Library on the main Springfield campus of Missouri State University. Stop by and take a look. Free and open to the public. 
The newest exhibit of material from the Morgan Military Insignia Collection features United States Navy rate and rank insignia. With roots in Royal Navy traditions, the Navy's insignia and manner of address is different than that of the other military services.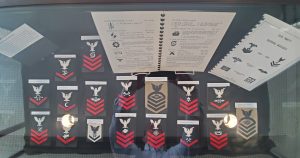 Insignia for enlisted members of the Navy, unlike the other services, are a combination of rank and work specialty — and their color has meaning as well. This can create confusion among the uninitiated, and with a large number of possible combinations, opportunities for the insignia collector.
Naval officer insignia, though the same as worn by officers of the other services, have different meaning. Keeping things interesting, on dress uniforms an officer's rank is indicated by a series of stripes on epaulets or cuffs of the coat.
This exhibit is a primer on Navy insignia and how they relate to rank in the other services.