New Display at the MSU Alumni Center
New Display at the MSU Alumni Center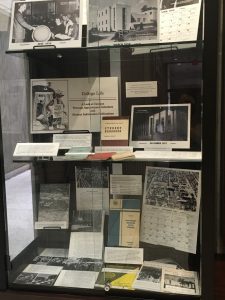 If you enjoy images of campus from the late 1950s through the early 1970s, visit the display case on the first floor of the MSU Alumni Center, downtown at the corner of South Jefferson and East McDaniel. 
Special Collections and Archives, a part of the Missouri State University Libraries, recently installed a display at the Alumni Center. The majority of the display focuses on images of campus used in Appointment Calendars from 1957 to 1973. The calendars were a supplemental issue of the Bulletins or Catalogs and include the dates of events and celebrations held on campus.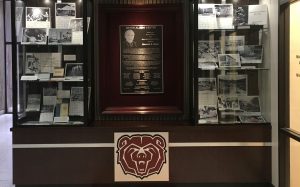 The display also looks at additional printed student information publications, such as Bear Facts (one of the many titles for the student handbook) and special recruitment issues of the Bulletin that provide information to potential students. A 1945 Bulletin highlights traditional events held during the school year and references the importance of the campus calendar. While the calendar photos are fascinating, the publications offer a glimpse at how students used printed materials in the same way we use our phones and other digital applications today!