Shannon Mawhiney in the Public Affairs Spotlight
Shannon Mawhiney in the Public Affairs Spotlight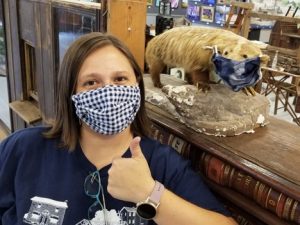 Late in March, Shannon Mawhiney, Digital Archivist for the Missouri State University Libraries, was highlighted in the blog of the Office of Public Affairs Support at MSU. 
The blog post, written by Cole Howerton, a student assistant in Public Affairs Support, focused on Shannon's work with the Christian County Historical Society, which operates a museum, curates their growing collections, and publishes a quarterly newsletter, all with volunteer support. 
Shannon expressed her desire to have the Christian County Historical Society collaborate with the Christian County Library to retrieve a time capsule in the Christian County Court House. Thanks to Shannon, the time capsule committee of Christian County is well underway. 
Thanks, Shannon, for all the work you do for the MSU Libraries, the Christian County Historical Society, and other organizations to preserve and promote local history here in the Ozarks.