New Exhibit in Craig Hall
New Exhibit in Craig Hall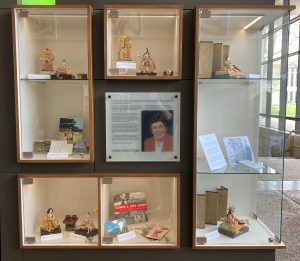 Special Collections and Archives, a part of the Missouri State University Libraries, is pleased to unveil our new exhibit in the lobby of Craig Hall at the entrance to Coger Theatre. The exhibit case is dedicated to the theatre's namesake, Dr. Leslie Irene Coger (1912-1999), who taught in the Theatre and Dance Department for 38 years and was one of the founders of Tent Theatre.
This new exhibit highlights Dr. Coger's collection of Japanese Hina dolls, most of which have not been displayed since her passing. The exhibit also features other items she collected during her travels in Asia, including original postcards she sent during a USO tour of Japan, Korea, and the Philippines in 1968.
Tent Theatre patrons can enjoy the exhibit during the upcoming summer season, which will be performed indoors at Coger Theatre during construction of the new performing arts pavilion. All of the items displayed are part of the extensive Leslie Irene Coger Collection, which is still being processed. Portions of the collection may be made available to researchers upon request.
Users may contact Special Collections and Archives at Archives@missouristate.edu with questions about the exhibit or the collection.