Major Gift Funds Completion of the Ozark Jubilee Digitization Project
Major Gift Funds Completion of the Ozark Jubilee Digitization Project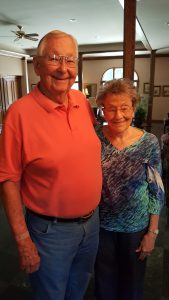 An additional major gift from the Martin Family Foundation has provided sufficient fiscal resources to complete the massive, multi-year Ozark Jubilee Digitization Project, a collaborative endeavor involving the UCLA Film & Television Archive and the Ozarks Studies Institute, an ongoing program of the Missouri State University Libraries. 
Don and Ruth Martin have been lifelong supporters of higher education in many ways and to many institutions and organizations. Gifts from the Martin Family Foundation have benefited the Missouri State University Libraries in several ways, including furnishing the "living room" on the main level of Duane G. Meyer Library, which quickly has become a favorite spot for many students and other library users, as well as several gifts supporting efforts by the Ozarks Studies Institute to preserve and promote Ozarks history, culture, and life. 
Now that funding has been secured to complete this project, we have asked the UCLA Film and Television Archive to digitize the remaining rare kinescopes of the Ozark Jubilee from the Fifties when it was a live weekly national television broadcast on ABC-TV. When the MSU Libraries receives another set of large digital files, they will need to be lightly edited and transcribed, with appropriate metadata attached, then uploaded to the dedicated YouTube Channel for this project. When the entire project is complete, some sort of celebratory jamboree will be held. 
Thank you very much, Don and Ruth, for your enthusiastic support for this digitization project. The Martin Family Foundation put it over the finish line.