206/209 Renovation Begins
206/209 Renovation Begins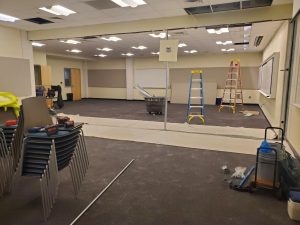 This week a group from the Campus Construction Team (CCT) at Missouri State University, part of the excellent Facilities Maintenance group, began removing the wall between Room 206 and 209 on the Second Level in Duane G. Meyer Library. The new, larger room will be used for a variety of purposes planned by the MSU Libraries, the Faculty Center for Teaching and Learning (FCTL), and other service organizations here at the university.
New state-of-the-art instructional technologies will be installed, too, along with new modular furnishings that enable easy, rapid repurposing of the space. The dedicated LIT (Library Information Technology) team at the MSU Libraries is leading and coordinating the technology work. The Libraries' Space Committee is leading the selection and procurement of new furniture.
Major financial support for this project has come from the Office of the Provost, for which the MSU Libraries is very thankful. This project is part of the ongoing multi-year endeavor to renovate and repurpose, when needed and appropriate, most of the spaces in and near the Duane G. Meyer Library building, which is a well-situated gathering place for all types of teaching, learning, research, service, and creative activities at Missouri State.
The goal is to have the new, renovated Room 206/209 ready for use by August, in time for the start of the fall semester and the return of normal campus operations following the worst phase of the pandemic.