Cedar Bluff School Digitization Project
Cedar Bluff School Digitization Project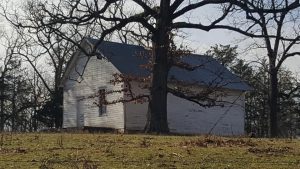 One-Room schools used to dot the entire region of the Missouri Ozarks. One such school house is Cedar Bluff School in western Stone County. It sits on a bluff on the north side of Flat Creek, not too far upstream from where today Flat Creek empties into Table Rock Lake. Long unused, the building still stands. 
Recently the Missouri State University Libraries began working with Mary Tearney and her family to gather together various records and histories about that school. These documents then will be digitized in the Digitization Lab of the MSU Libraries. The goal of the project is to preserve the information and to make it readily usable by researchers, now and in the future. 
As a young girl, Mary Tearney attended Cedar Bluff School, which was about two miles from the family home. As a young woman, Mary taught in another nearby one-room school house, with the official name of Mountain Home School, but most people called it Possum Trot. If you would like to hear more about her amazing upbringing and young adulthood in rural Stone County, in Springfield at the teachers college, and in Nixa, an oral history interview with Mary is available online. A hearty thanks to Mary Tearney for her ongoing support of all students, past, present, and future.