MSU Librarians Confer with CalTech Librarians
MSU Librarians Confer with CalTech Librarians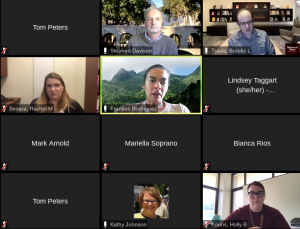 On Friday, November 13, 2020, six librarians from the Missouri State University Libraries met online via Zoom with several librarians from CalTech (California Institute of Technology), a major private research university located in Pasadena, to discuss the challenges and benefits of undergoing a systems migration. 
Representatives from CalTech had reached out to Brooks Travis, the head of Library Information Technology at the MSU Libraries, requesting an online group conversation and sharing of ideas and experiences, because of our recently launched "First FOLIO at MSU" Project, which was announced in September of 2019 and implemented during the first half of calendar year 2020, as everyone dealt with the developing COVID-19 pandemic that persists. 
The participants from the MSU Libraries included Mark Arnold, Rachel Besara, Holly Kouns, Tom Peters, Lindsey Taggart, and Brooks Travis. Several of the CalTech librarians had heard Lindsey and Brooks present at the recent Charleston Conference, which was held exclusively online because of the pandemic.