More New Roles and Responsibilities
More New Roles and Responsibilities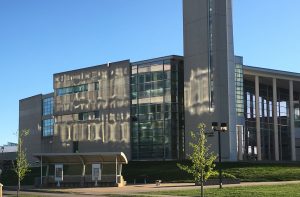 As we all prepare for the new academic year, in light of our ongoing response to the COVID-19 pandemic, changing user needs and expectations, a university-wide hiring freeze, major systems changes, and increased fiscal constraints, several Libraries employees (faculty and staff) have stepped up to assume additional roles and responsibilities for the MSU Libraries and its users, beginning in August:
David Adams will devote more of his professional time and talent to BearWorks, MSU's Institutional Repository, and our expanding e-publishing efforts. As a result, after years of service in this capacity, he will be stepping away from serving as the Building Coordinator of Meyer Library. 


Nathan Neuschwander has agreed to serve as our Building Coordinator as of August 1st. Nathan also will serve as our furniture wrangler, working with surplus items, too.


Holly Kouns has agreed to serve as Nathan's backup regarding Building Coordination and furniture management and surplussing, replacing Joshua Lambert.


Joshua Lambert, in turn, has agreed to serve as our Government Information Librarian, succeeding Jim Coombs, who retired in May. He will be handling state, federal, and United Nations information services, documents, and data. 


Melissa Eiken will handle all aspects of key control in the building. 


Rachel Besara is managing Maps and GIS services, collections, and spaces. 
Thanks to everyone who is stepping up to help in these difficult times.