New Faculty to be Welcomed to Campus and Meyer Library
New Faculty to be Welcomed to Campus and Meyer Library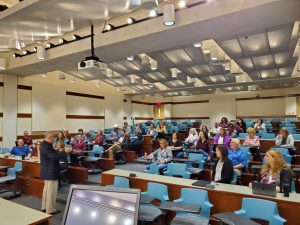 The week before the start of Fall Semester always is a busy time on the MSU campus. This year is no exception. Among many things, it's the week when new faculty members receive orientation. 
Because of the current pandemic, including the need to maintain social distancing, Duane G. Meyer Library will play a bigger role in New Faculty Orientation. 
On Monday, August 10, the group will meet in the recently renovated Sunderland Foundation Auditorium — Room 101 off the main lobby of Duane G. Meyer Library — for a box lunch, followed by an afternoon of meetings and presentations. Late that afternoon, President Smart will host a reception in the lobby of Duane G. Meyer Library. Because of space limitations and social distancing requirements, that event will be by-invitation-only.
On Tuesday morning, new faculty members will be back in the library to learn about the resources and support available through the Faculty Center for Teaching and Learning. A hearty welcome to all new faculty members!