Howard Orms Joins MSU Wall of Fame
Howard Orms Joins MSU Wall of Fame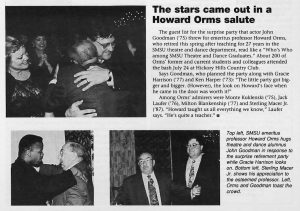 The Board of Governors recently announced Dr. Howard Orms, professor in Theatre, as one of the inductees to the MSU Wall of Fame. Orms had a significant impact on Missouri State's theatre program and his influence is well documented in Meyer Library's Special Collections and Archives.
In 1966 Howard Orms began as a professor at Southwest Missouri State College (later Southwest Missouri State University and now Missouri State University) and retired in 1993. He arrived at an important time, as Theatre had become a part of the new Speech and Theatre Department in 1965 (the Theatre and Dance Department was later established during a 1984 reorganization). He remained on as a professor emeritus until his death in 2001. While at the university, he taught both undergraduate and graduate courses in Acting, Directing, Theatre Management, and Voice and directed various Springfield Little Theatre and MSU Tent Theatre productions. Some of his former students include John Goodman, Tess Harper, and Kathleen Turner.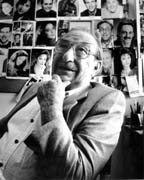 Orms was born October 25, 1920, in Keota in southeast Iowa, and graduated from Mt. Vernon [Iowa] High School. During World War II (and after he had completed five semesters at Cornell College), he served in the European Theatre for 4 years as Mess Sergeant for the 124th Anti-aircraft Artillery Gun Battalion, Battery D. He received five battle stars for his service and was honorably discharged in 1946. In 1947, he completed his Bachelor of Arts degree in Drama from Cornell College. He also worked as a graduate assistant at Cornell for two years teaching Radio, Verse Choir, and Stage Craft. In 1950, he earned a Master of Fine Arts degree in Drama from Yale University.
Several collections provide both personal and professional information about Howard Orms' career in theater and as a professor. Learn more about Dr. Orms by viewing the finding aid for the Howard Orms Collection.
You can find the digitized version of the photos above in the Southwest Missourian, 1993 (Summer), in MSU Miscellaneous Publications, available in our online Digital Collections.   
To see these collections or for more information, contact or visit Special Collections and Archives.