Meyer Library Access Plan for Summer Session
Meyer Library Access Plan for Summer Session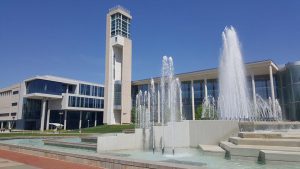 MSU's Summer Session begins June 8th, and Duane G. Meyer plans to be partially open this summer to serve students, faculty and staff near and far.
This Summer Session plan is subject to revision based on demand for services.  Other changes might be made if the university, city, county, or other agency provides  guidelines or directives that necessitate changes. 
Hours 
Services
Research and reference help available online on demand from 9 am to 6 pm M-F; other times and/or in-person by appointment.

Testing Center is offering both academic and paid exams.

Physical collections (books, etc.) held locally will be available upon request via the online form on the Libraries' website.

Special Collections and Archives is open by appointment.

Haseltine is offering limited book drop off and pick up by appointment.  Pick up and drop off of Haseltine materials can also happen at Meyer Library.

Interlibrary Loan will continue to borrow and lend digital materials.  The lending and borrowing of physical materials will resume as other libraries resume physical interlibrary lending.
Spaces
Study spaces available in the Library lobby and throughout the 1

st

Level. Sections of the 1

st

Level  may be cordoned off to ensure better sanitation.

Stacks and other floors (aside from the Testing Center) closed to the public/local traffic only to better manage cleaning schedules, limited staff, and sanitation supplies.

All online resources will continue to be available and are actively being improved. 
Sanitation & Safety
Plexiglass safety shields are being installed at all public services points.

Hand sanitizer and disinfecting wipes are being offered in public spaces.

Gloves and masks are being provided to library staff (currently and as long as the supply chain allows).

An enhanced cleaning routine for high-touch patron areas is being implemented by library staff.

Returned materials are being quarantined before re-shelving or lending to ensure patron and staff safety.

Staff will serve rotating shifts in areas that are close-quartered throughout summer; meanwhile, employee spaces will be rearranged to meet social distancing guidelines and requirements.  As this work is completed, we will slowly bring more staff into the building for longer periods of time. This process will occur throughout June and July, with the majority of staff regularly working in the building two weeks prior to the start of the fall semester (August 17).