Ozarks Studies Institute Receives Financial Gift
Ozarks Studies Institute Receives Financial Gift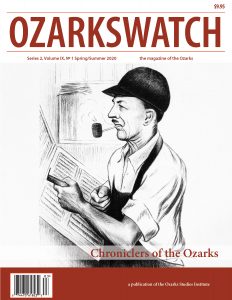 Recently Mr. and Mrs. Donnell of the Phoenix metropolitan area made a much-appreciated financial gift to the Missouri State University Libraries to support the work of the Ozarks Studies Institute, one of many services and initiatives of the MSU Libraries. 
The Ozarks Studies Institute (OSI) engages in many activities supporting Ozarks history and culture. The fabulous OzarksWatch magazine is published every year in the spring and fall. The new issue, on the general topic of Chroniclers of the Ozarks, will be out soon.
The OSI also has an ongoing book series. The third book in the series, Living Waters: The Springs of Missouri, is being printed right now and will be available this summer.
The collaborative project with the UCLA Film & Television archive to digitize and preserve episodes of the Ozark Jubilee television program from the mid-to-late Fifties that originated right here in Springfield, Missouri, continues. 
The OSI also has an ongoing oral history program, too, where we interview, record, and archive the experiences and memories of Ozarkers. A current emphasis of this program is on agriculture in the Ozarks, an important aspect of the life and economy of the Ozarks Region for centuries. 
Last but not least, the new Ozarks Room at the west end of the Third Level of Duane G. Meyer is taking shape. We are planning to have a grand opening reception sometime this fall. Please watch for an announcement with more details. 
We sincerely thank the Donnells and other friends and supporters of the MSU Libraries for your continued support.