Skylight Area Renovations Almost Complete
Skylight Area Renovations Almost Complete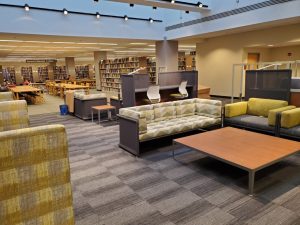 The renovations to the Skylight Area on the east side of the Second Level of Duane G. Meyer Library on the Springfield campus of Missouri State University are almost complete. New carpeting has been installed, and all-new furniture is being assembled for users of this area. 
Also, special new shelving is being assembled that will hold our oversized volumes. When the renovation of this area is complete, it will become another popular study area. This renovation project is just one piece of the multi-year project to renovate all the public spaces in Duane G. Meyer Library.  
Funding for this renovation project came from carryforward funds from the FY19 operating budget of the MSU Libraries.