MSU Library Contingent Attends WOLFCon 2020 at Texas A&M University
MSU Library Contingent Attends WOLFCon 2020 at Texas A&M University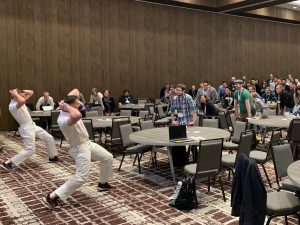 On January 22nd through the 24, a contingent from the MSU Libraries, consisting of Brooks Travis (LIT Coordinator), Mark Arnold (Library Systems and Support Specialist), and Joshua Lambert (Head of Access Services), attended the 2020 World Open Library Foundation Conference (WOLFcon) on the campus of Texas A&M University in College Station, TX.
The three-day conference featured over 50 sessions on FOLIO, the new library services platform (LSP) the MSU Libraries are going live with in June 2020, and provided an opportunity to meet and discuss FOLIO with other early implementers, developers, and other participants in the FOLIO open-source project and other Open Library Foundation (OLF) projects, such as Project ReShare, VuFind, and GoKB. Below are some brief take-aways from each of our attendees.
Brooks Travis
Being involved in an open-source community is often a case of working with people you may never see or hear, who are often spread around the globe (and time zones). Having an opportunity to meet face-to-face and discuss the challenges and opportunities of the project with other participants, particularly those who have been involved from the beginning, is, frankly, invaluable. WOLFCon gave us the chance to have both structured conversations about functional requirements and development, as well as spontaneous ones with other implementers about our more general thoughts on the current state of the project and its future. 
My greatest takeaways from WOLFCon were that the FOLIO community is energized and committed to building a first-class platform and sustainable development community, and really supportive and excited about our implementation, the contributions (now and in the future) we're making to the community through our participation in the Special Interest Groups (SIGs) and the broader FOLIO project community, and working with us going forward.
Mark Arnold
Most of the sessions that I attended were either Acquisitions, ERM, or migration related. Here's a list:
Business processes I: Acquisitions/Inventory
Business processes II: Agreements, Licenses, eHoldings, Agreement Lines
Business processes III: Financial management
Experiences in implementing FOLIO ERM
Real-life and structural review of inventory
Entity management (a subgroup of Metadata Management)
Data Migration: Approaches at The University of Chicago, Texas A&M, Chalmers, University of Alabama
Acquisitions, Inventory and ERM Migration: making it more efficient and automated
Data Migration: requirements and workflows
EBSCO services integration with FOLIO
Campus financial system integration
The quality of the sessions was varied. Some were extremely useful while others were less so. The sessions on Business processes were probably the most useful. They featured a deep dive into using FOLIO for the respective topics. I've already been able to answer some questions asked here based on what I learned in some of these sessions. And, as is often the case, some of the most useful interactions were between and after the sessions. I was able to meet and talk at length to a couple of members of our implementation team that I'd only been able to converse with on Slack before. One is based in Sweden and the other in Chile. We also had conversations with others at various stages of the migration process. Hearing their experiences and concerns has opened up some new avenues to explore that I had not thought of before.
Joshua Lambert
WOLFcon was a very informative and useful conference. The sessions varied on a spectrum from presentation on one hand to committee meeting on the other. Most were operational discussions of how FOLIO currently worked and how that compared to how it would work in the future.
The FOLIO "Check In" and "Check Out" applications are more mature and tested since Chalmers University of Technology has been using them live for 6 months now. One discussion revolved around how title level holds should work compared to the item level holds that currently work in FOLIO. The planned title level hold workflow proposal looked like it would work well for our purposes at MSU. While not yet released in a stable version, the "Courses" app (Reserves) is mostly complete.
While the large academic libraries tend to dominate participation in FOLIO, there are also small academics and medium sized publics involved. In addition, libraries from the United States form the majority of contributors while there are strong European contributions and a very large library system in China also plans to implement it. Such diversity tends to increase the success of open source projects, such as FOLIO, in general.