Joshua Lambert Takes on New Responsibilities
Joshua Lambert Takes on New Responsibilities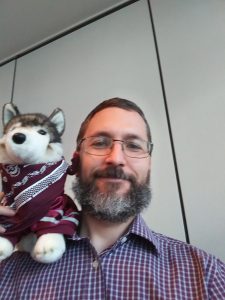 Every member of the Library Science Faculty at Missouri State University engages in Teaching/Librarianship, Research, and Service.
Joshua Lambert, Associate Professor of Library Science, has graciously agreed to help the MSU Libraries position itself for continued success by focusing the Teaching/Librarianship aspects of his professional life on the following areas: 
60% Research and Instructional Services (one-shot information literacy lectures, for-credit teaching, research consults, LibGuides, etc.)
20% Digital Scholarship Support Services
20% Stacks Strategist and Statistics, including building coordination tasks in consultation with David Adams and others
We thank Joshua for his many years of service as Head of Access Services, as we're excited to have his expertise and dedication applied in these new areas.