Search for E-Resources Strategist to Begin Soon
Search for E-Resources Strategist to Begin Soon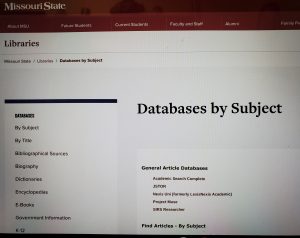 Dr. Frank Einhellig, Provost at Missouri State University, recently gave the MSU Libraries the go-ahead to begin a search to fill a new position, E-Resources Strategist. Andrea Miller, a Library Science faculty member who had been managing our e-resources program, which comprises approximately one-third of our annual operating budget, recently graciously stepped forward to help the University Libraries in another critical area of need, cataloging and metadata services. 
The E-Resource Strategist, a new staff position, will provide operational support in a team-based environment for license negotiation, acquisition, and technical support of all electronic resources. This position carries an opportunity to reinvent electronic resource management functions and workflows. The E-Resource Strategist will guide the development of sustainable departmental policies and procedures, with a special focus on assessment and process improvement. This position will serve as the University Libraries' primary contact with MSU General Counsel regarding resource licensing and interpretation, ensuring that license terms align with the evolving needs and requirements of the campus community.
Lindsey Taggart, the Library Science faculty member who proposed this new position and advocated for it as various committees and groups of the MSU Libraries discussed our most pressing need for expertise, even in this time of a dip in enrollment and concomitant fiscal constraints, has agreed to serve as chair of the search committee that will be formed soon. A hearty thanks to Lindsey, Andrea, and others who are helping to position the MSU Libraries for continued success during changing, challenging times.