Library Employees Honored at Staff Service Awards
Library Employees Honored at Staff Service Awards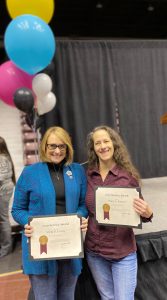 Two employees of the Missouri State University Libraries were honored during the recent Staff Service Awards and Appreciation Luncheon, held on Wednesday, January 8th at the Hammons Student Center on the Springfield campus of MSU.
The event recognized full-time staff who reached a five-year service milestone during 2019. 
Vicki Evans, Accounting Specialist
Tracy Patton, Library Associate III
Congratulations, Vicki and Tracy! Your dedication is truly appreciated.