Stout Attends Amigos OER Conference
Stout Attends Amigos OER Conference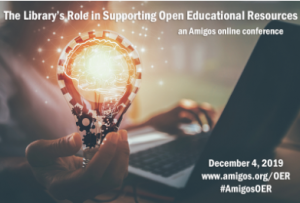 On Wednesday, December 4, 2019, Professor Tracy Stout attended the first Amigos Library Services OER online conference, The Library's Role in Supporting Open Educational Resources. As the cost of textbooks and other educational materials are exponentially increasing, many institutions of higher education and PK-12 schools are adopting open educational resources (OER) as alternatives for their students.
Libraries are starting to see OER as part of a trickle-down effect. More and more librarians are now being tasked with supporting faculty, students, and other members of their communities with the adoption of OER.
This online conference explored the roles libraries of all types play in supporting open educational resources. Regina Gong, the Open Educational Resources (OER) & Student Success Librarian at Michigan State University, provided the opening keynote, Paving the Way Towards Students Success: Librarians as Leaders and Partners in OER Initiatives. Other sessions discussed how libraries are supporting OER in specific subject areas, developing partnerships with faculty and students, using OER in the classroom, cataloging OER materials, and much more.