Therapy Dogs Here Next Tuesday
Therapy Dogs Here Next Tuesday
Next Tuesday, December 10th, from 2:00 to 4:00, we're going to the dogs.
Pups from Pet Therapy of the Ozarks will be paying a visit to Duane G. Meyer Library to help students de-stress during Finals Week.
The doggies will be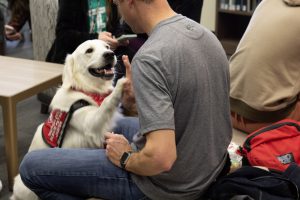 in the Library Living Room on the First (Main) Level (just past the top of the ramp and across from the Information Desk). Be sure to stop by for some snuggles and relax with these furry friends!