What's Brewing @ Your Library Event
What's Brewing @ Your Library Event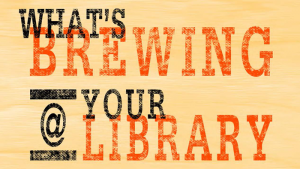 Save the date for the next installment of the MSU Libraries' signature event, What's Brewing @ Your Library!
Friday, December 13th at Duane G. Meyer Library
5:00-7:00 p.m.
What's Brewing @ Your Library is a great way for MSU faculty and staff to celebrate the end of the semester and visit with colleagues, all while enjoying samples from area breweries, snacks, and live music. It's also the perfect opportunity to check out what's new and exciting at Meyer Library!
Want to help? Volunteers are needed to assist with setup and during the event. You can also help by mingling with fellow MSU faculty and staff to discuss the new resources available at Meyer Library. Contact Tracy Stout at (417) 836-4535 or by email at TracyStout@MissouriState.edu for more details.
Please note: Meyer Library will close at 4:00 p.m. on Friday, December 13th to allow for setup and reopen at 5:00 p.m. for the event. You must be at least 21 years of age to attend; valid i.d. required.