Richards and Peters Present at MPLA
Richards and Peters Present at MPLA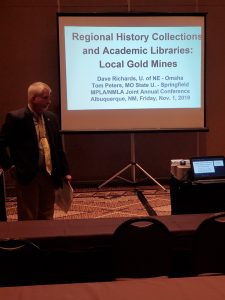 Dave Richards, Dean of Libraries at the University of Nebraska, Omaha, and Tom Peters, Dean of Library Services at Missouri State University, presented at the annual conference of the Mountain-Plains Library Association in Albuquerque last Friday. 
The title of their presentation was "Regional History Collections and Academic Libraries: Local Gold Mines." To remain relevant into the 2020s, academic libraries in the Mountain-Plains region should review and revise their fundamental strategies regarding collections, services, and spaces. Richards and Peters encouraged attendees to focus on regional history collections (documents, images, recordings, and artifacts) as one key component an academic library can use to position and distinguish itself for continued success.
Collections pertaining to regional history and culture are gaining in importance, use, and strategic value. Friends and supporters of academic libraries value efforts to preserve, digitize, and provide access to regional history collections, and local collections often connect up with international research efforts. Examples from both the Nebraska-Omaha and Ozarks multistate region were provided. By focusing on regional history and culture, academic libraries also have an excellent opportunity to serve as "full-service cultural memory institutions," which collect all types of information and cultural objects and manage them in traditional and innovative ways.