Regional Disaster Response and Recovery Team
Regional Disaster Response and Recovery Team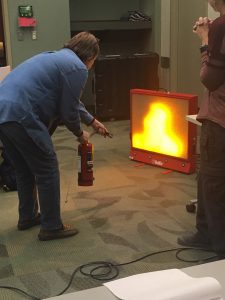 On November 6th representatives from numerous local and regional archives, libraries, and cultural heritage institutions gathered at The Library Center for the first workshop of a newly formed Regional Disaster Response and Recovery Team.
The first session focused on our emergency management community and fire extinguisher training, and we are fortunate that we have such great support from the University Safety Office at MSU. Karen McKinnis, our Emergency Preparedness Manager, and members from Campus Safety provided both simulated and live fire extinguisher training, and disaster planning information. Karen also invited Zim Schwartze, Director for Springfield-Greene County's 911 Emergency Communications, and Bill Spence, Springfield Fire Marshal, to speak to the group.
The Team is funded by a grant from the Society of American Archivists. Tracie Gieselman-Holthaus serves as the lead in the project, with support from the Missouri Secretary of State Local Records Preservation Program, and the Greene County Archives and Record Center. We also appreciate the chance to collaborate with our colleagues from the Springfield-Greene County Library District, who graciously hosted the workshop, in addition to participating in the training.