Annual BRB Book Sale a Success
Annual BRB Book Sale a Success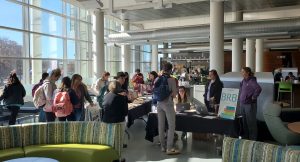 The Children's and Young Adult Book Review Board of Missouri (BRB) is happy to report their most successful book sale ever. This year the annual sale was held on Tuesday, November 19th in the lobby of Duane G. Meyer Library.
Students from across campus browsed through (and bought!) books ranging from preschool books to young adult fiction. The annual Book Sale supports the BRB's literacy efforts and workshops throughout the region.
If you missed the sale, you are welcome to stop by Meyer Library 215 through Friday, December 13 — there are still books available!