Talk by Brooks Blevins Draws Large Crowd
Talk by Brooks Blevins Draws Large Crowd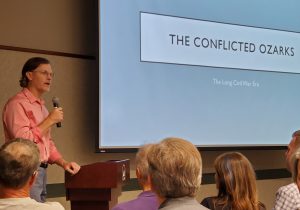 The Ozarks Studies Institute, an initiative of the Missouri State University Libraries, and the Springfield-Greene County Library District (SGCLD) collaborated on organizing a public lecture by Dr. Brooks Blevins, the Noel Boyd Professor of History at Missouri State University.
His talk was held at the Library Center of the SGCLD on Tuesday evening, September 17, 2019. Over 160 people attended.
Dr. Blevins talked about his most recent book, The History of the Ozarks, volume 2: The Conflicted Ozarks. The book covers the last half of the 19th century, when clashing armies, bands of vigilantes, and even divided allegiances within individual families resulted in a long period of violence, civil unrest, social disorder, and economic decline for the Ozarks Region. The Civil War affected this region for generations to come.